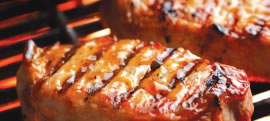 Ingredients


• 6 boneless Canadian pork loin chops, about 1 inch (2.5 cm) thick
• ½ cup (125 mL) brown sugar, firmly packed
• ½ cup (125 mL) apple juice
• ¼ cup (50 mL) canola oil
• 1 Tbsp (15 mL) reduced-sodium soy sauce
• ½ tsp (2 mL) ground ginger
• Salt and pepper to taste
• 1 Tbsp (15 mL) cornstarch
• ½ cup (125 mL) water

Yield: 6 servings
Cooking Time: 10 minutes
Preparation Time: 10 minutes



Cooking Instructions


Preheat grill on high for 10 minutes.

Meanwhile, in a small sauce pan, over medium heat, combine brown sugar, apple juice, canola oil, soy sauce, ginger, salt and pepper, toac taste; bring to a boil.

In a measuring cup or small bowl, whisk cornstarch into the water and whisk into brown sugar mixture. Cook, stirring constantly until bubbling and thickened.

Reduce grill to medium-high heat. Grill chops on oiled grill, brushing often with brown sugar glaze, about 6 to 8 minutes per side, or until digital thermometer inserted sideways into the centre of each chop reads 160°F (71°C). Do not overcook.